LESS THAN 6 KM SOUTHWEST OF ZNOJMO, A COMPLEX OF WINERY, HOTEL AND RESTAURANT HAS BEEN ESTABLISHED IN THE FORMER AGRICULTURAL COOPERATIVE AREA IN THE VILLAGE OF HAVRANÍKY. YOU MAY ALREADY BE FAMILIAR WITH IT UNDER THE NAME THAYA.
THE COMPLEX DESIGN WAS CREATED BY ARCHITECT JAKUB CIGLER'S STUDIO, AND THE PROJECT DOCUMENTATION FOR THE IMPLEMENTATION OF VEGETATION ADJUSTMENTS WAS DEVELOPED BY ING. HELENA SMRČKOVÁ IN COOPERATION WITH ING. VOJTĚCH HALÁMEK. OUR TASK WAS TO TRANSFORM THE VISION OF VEGETATION ADJUSTMENTS INTO REALITY.
IN THE PRODUCTION COURTYARD AND IN FRONT OF THE RESTAURANT, WE CREATED GREEN ISLANDS. THESE ISLANDS ARE DESIGNED AS GENTLY ELEVATED HILLS, DOMINATED BY SOLITARY AVENUE TREES ACCOMPANIED BY A MIX OF PERENNIALS, ORNAMENTAL GRASSES, AND BULBOUS PLANTS THAT TRANSFORM YEAR-ROUND. ZAJDINA ZAHRADA S.R.O. ASSISTED IN THE IMPLEMENTATION OF PERENNIAL PLANTINGS.
WE ALSO USED A MIX OF GRASSES AND PERENNIALS TO CREATE GREEN ROOFS FOR TASTING CELLARS AND APARTMENTS, AS WELL AS PLANTING THE GAPS IN THE PAVING TO MAXIMIZE GREEN SPACES IN THE AREA.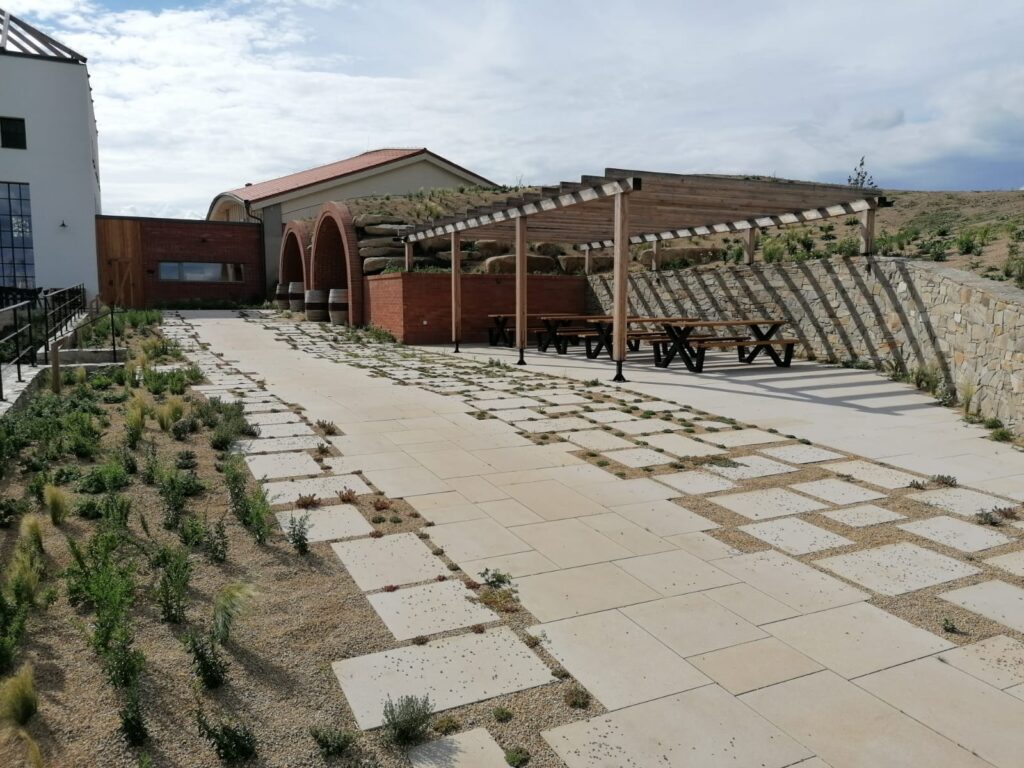 WE DIVIDED THE SPACES BETWEEN THE APARTMENTS WITH GRANITE SLABS AND FLOWER BEDS. ONCE THE PLANTS GROW, THEY WILL SERVE AS A SCREEN BETWEEN THE APARTMENTS, PROVIDING GUESTS OF THE WINERY WITH PRIVACY.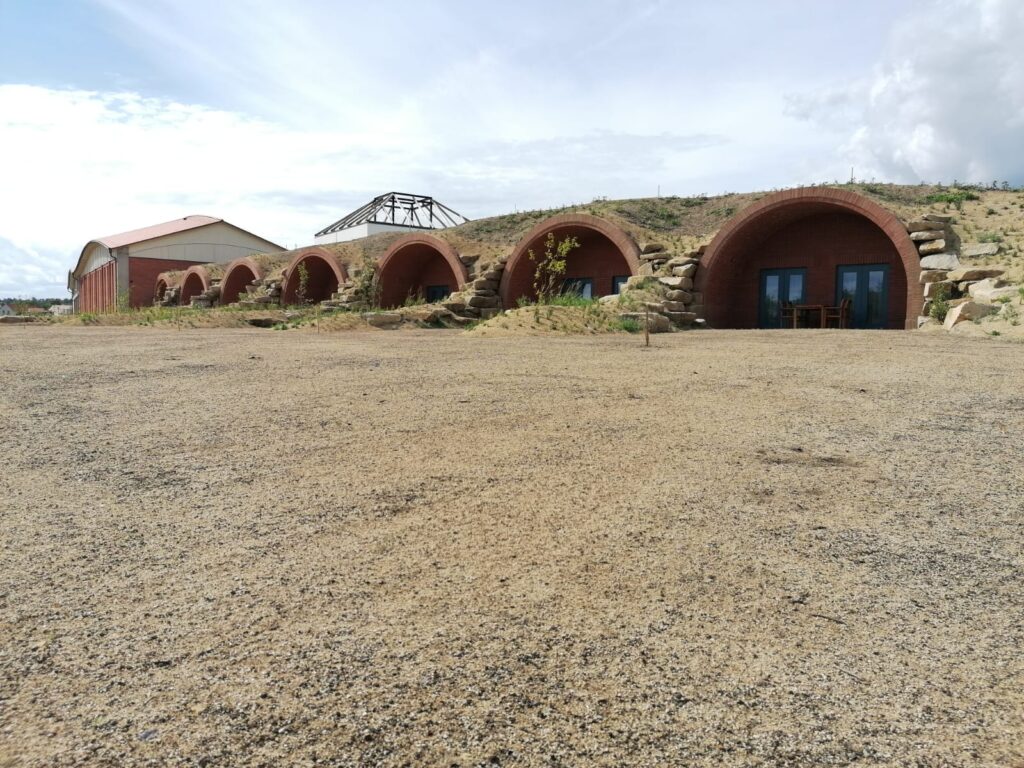 THROUGHOUT THE WINERY AREA, WE PLANTED SEVERAL MATURE TREES, REQUIRING HEAVY EQUIPMENT FOR THEIR PLACEMENT.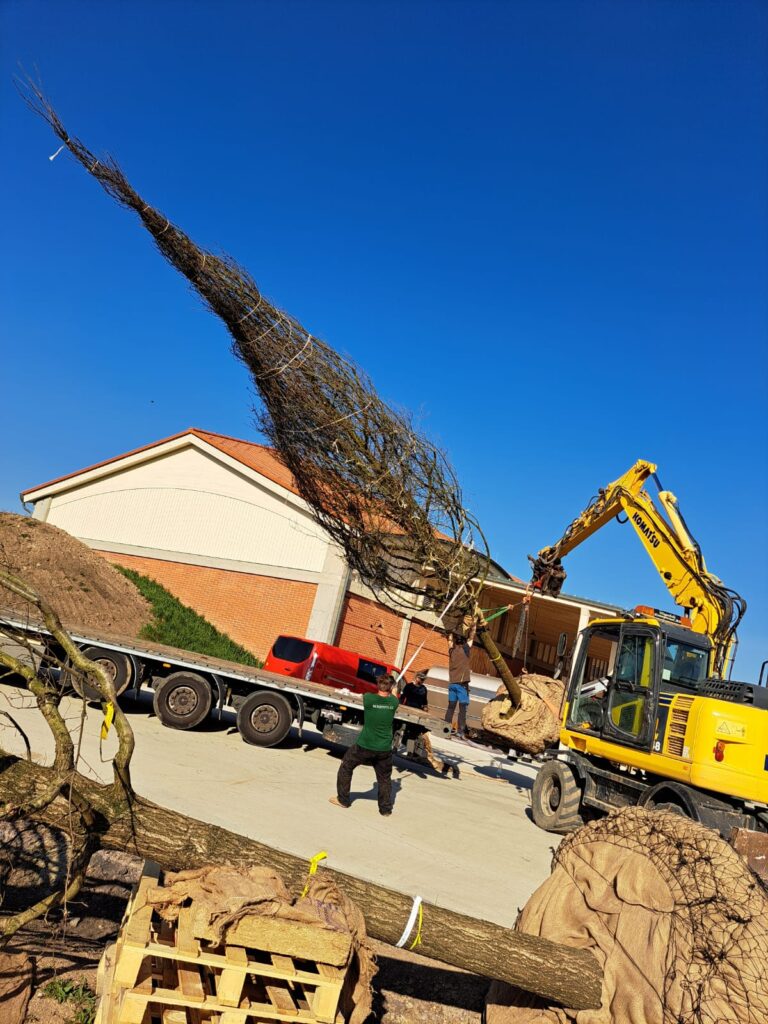 SO FAR, WE HAVE PLANTED 28 MATURE TREES, 573 SHRUBS AND CLIMBING PLANTS, 4,223 PERENNIALS, AND 794 BULBOUS PLANTS.
CURRENTLY, WE ARE WORKING ON THE SECOND PHASE OF THE PROJECT, WHERE WE ARE CARRYING OUT LEISURE PARK ADJUSTMENTS IN THE WINERY AREA. WE ARE PERFORMING TERRAIN MODELLING, CREATING GRAVEL PATHS AND STONE STEPPING STONES. THE LEISURE PARK WILL BE ENHANCED WITH A FIREPLACE, WATER ELEMENT, AND CHILDREN'S PLAYGROUND. WE WILL ALSO BE PLANTING AN ADDITIONAL 45 TREES, 700 SHRUBS, 1,935 PERENNIALS, AND 1,550 BULBOUS PLANTS.
WE CAN'T WAIT FOR THE ENTIRE PROJECT TO BE COMPLETED, TO SEE THE PLANTINGS THRIVE, THE ENTIRE AREA TURN GREEN, AND ARCHITECT JAKUB CIGLER'S VISION COME TO LIFE.